Egg Roll or Spring Roll?
Egg Roll is a Chinese appetizer or snack that is commonly eaten at restaurants that serve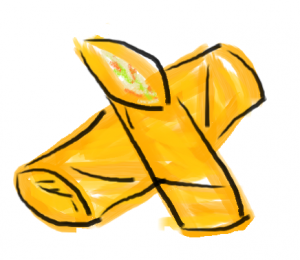 dim sum.  It is sometimes interchangeably called Spring Roll, due to its direct translation from Chinese 春卷 (chūn juǎn). Often times due to its various nomenclature, egg rolls are sometimes confused with other types of Asian cuisines that serve their version of Spring Rolls.
Chinese spring rolls or egg rolls are made with a doughy sheet similar to wonton skins, wrapping a combination of vegetables, meat and sometimes noodles inside. They are cooked by deep-frying, turning the outside a radiant golden-brown with a crispy texture on every bite.
 What about a lumpia?
Lumpia is very similar to egg rolls, just a tad bit smaller in size. Actually, lumpias originated from Chinese egg rolls and are transformed into its own product in the Philippines and Indonesia. There are of course many variations of its kind; one of the more common ones is called Lumpiang Shanghai. It is filled with ground pork or beef, minced onion, carrots, and spices.
We adopted a similar recipe for our lumpia, consisting of mainly meat with bits of carrots and onions inside. It is different from our egg rolls, which are larger in size and are wrapped with cabbage vegetables inside.  Lumpia are also deep-fried, giving a crispy and more meaty taste with every bite.
Here at EDS, we offer several kinds of Egg Rolls and Lumpia. We have frozen packages of both raw and partially cooked products. If you have any inquiries about these products, please contact our sales department.
Types of Egg Rolls prepared at EDS:
Vegetable Egg Roll
Chicken Egg Roll
Pork Egg Roll
Types of Lumpia prepared at EDS:
Pork Lumpia
Chicken Lumpia
Pork Shrimp Lumpia